Last Updated on January 19, 2017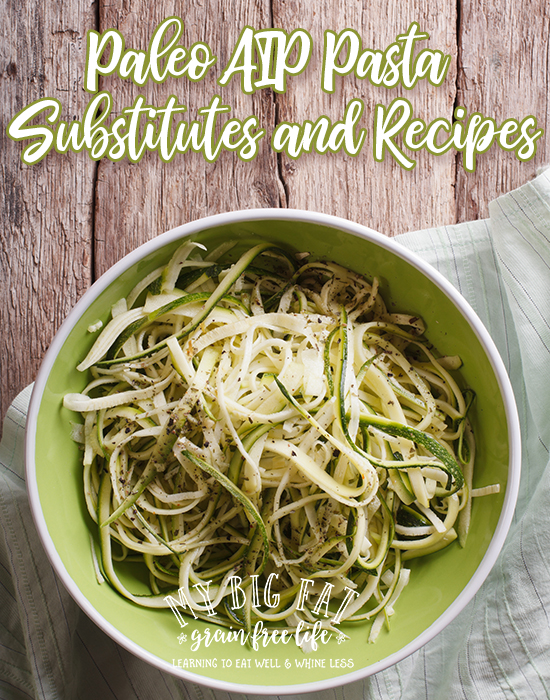 In my house growing up, we rarely used the word "pasta". In fact, other than the terms "pahst-n-peas" (pasta and peas) or  "pahst-a-fa-zhole" (pasta e fagioli), I do not remember even hearing that word until I got older and, what my mom referred to as "peasant food" suddenly became chic (such as polenta). Yay for peasants!
The word of choice used in our home was "macaroni". I can still hear my mom saying in her Brooklyn accent "Jennifah…ya want some moah macaroni?" And don't even get me started on the "sauce" vs. "gravy" debate…
So fast forward my life about 20-ish years (perchance a few more but I'm in denial), and – thanks to autoimmune disease – there's no macaroni (or sauce for that matter) for yours truly.
There I go again. I need a moment…
Ok. I'm back. Honestly, I'd rather be sans macaroni and meat sauce than writhing in pain from an autoimmune flare. Truth!
Surprisingly, there are quite a few substitutes that can be used in the place of macaroni (or pasta if you must). And for what is macaroni essentially used – but to be a vehicle for delicious sauce? In my newfound AIP life, "sauce" no longer refers to nightshade heaven, but there are a number of delicious sauces that beautifully compliment macaroni substitutes.
Truly. I am not lying. And as an aside, it took me a long time to get on the "zoodles" and "nomato sauce" bandwagon.
I hope you enjoy this great roundup! Check out this post by Living Loving Paleo called "Zoodles 101: Everything You Need to Know" for helpful tips on making, storing, and cooking zucchini noodles.  As a side-note, the recipes she shares at the end of the post are not AIP-compliant.
Shared on Paleo AIP Recipe Roundtable #152