Last Updated on December 31, 2016
I tasted my first plantain about 15 years ago with my best friend at a Latin Restaurant. I did not like it one bit and never ate plantains again. That is, until I started the Autoimmune Protocol. It is funny how willing you are to try something "new" when your food options become so limited. I am a convert now – a true plantain lover and I am hoping I can make you one too!
Plantains are considered a resistant starch, which is important for feeding the good bacteria in your gut, maintaining stable insulin levels, and even promoting weight loss (see articles below). However, in order for the starch to stay "resistant", it cannot be heated over 130F. The recipes shared today would cause the resistant starches in the plantains to be converted into digestible starch. But don't lose heart! Plantain flour or green banana flour can easily be added to smoothies, coconut yogurt, or coconut milk to receive the benefits of resistant starch.
I eat plantains a lot. They are so affordable at the grocery store, which is not something you can say about a lot of the AIP foods that we eat. I like them as Plantain Chips and my favorite brand is Artisan Tropic (they have Cassava Strips that taste like potato chips too!) The Inka Crops Roasted Plantain Chips are pretty good as well and I can find them at my local health food store or Amazon.
I have learned how to cook with plantains and am blown away by how many ways you can use them. One of my favorite snacks is tostones! I also make waffles and plantain wraps (think a vehicle for a "sandwich!") Below are some recipes that will get you all excited. Did you know you can make BAKED GOODS with plantains? Isn't that awesome?
1.) Plantain Waffles from Don't Eat the Spatula – I love these waffles! They are crisp on the outside and just really delicious. I do not add the maple syrup in my batter though, and since cinnamon will cause Psoriasis to flare up, I omit that too. They are easy to make with minimal ingredients. I like to top them with a blueberry compote that I sweeten with dates. You could make these with "fried" chicken too and eat chicken and waffles! Whatever you do, do NOT use ripe plantains. I tried that once…not a good ending.
2.) Plantain Tortillas from Fresh Tart – I love these tortillas! I made the most amazing shrimp tacos using them and topped it with mango salsa. I haven't enjoyed many AIP dishes as much as this one.
3.) Puerto Rican Mofongo Relleno from The Curious Coconut – Have you ever had Mofongo? OMGosh – YUM! You should give it a try.
4.)  Carob BROWNIE BITES from Eat Beautiful – Remember when I said you can make baked goods using plantains? I bet you were not thinking BROWNIES, right? This recipe does not have a lot of ingredients either (I love that!)
5.) Chicken Taquitos by Predominantly Paleo – Combine plantains with yuca and you can really make this a possibility! The taquito shell can be a vehicle for more than taquitos though. My Filipino mother in law makes Lumpia and I bet I could make it happen with this shell recipe. Just look at that crunchy deliciousness!
6.)  AIP Bread (Crusty Loaf) from Cook it Up Paleo – BREAD!?! Yes, Bread! I made this once and it really was crusty. I was not happy with the cassava flour I used at the time though, so I need to try it with Ottos! There are not may ingredients and it is quick to make.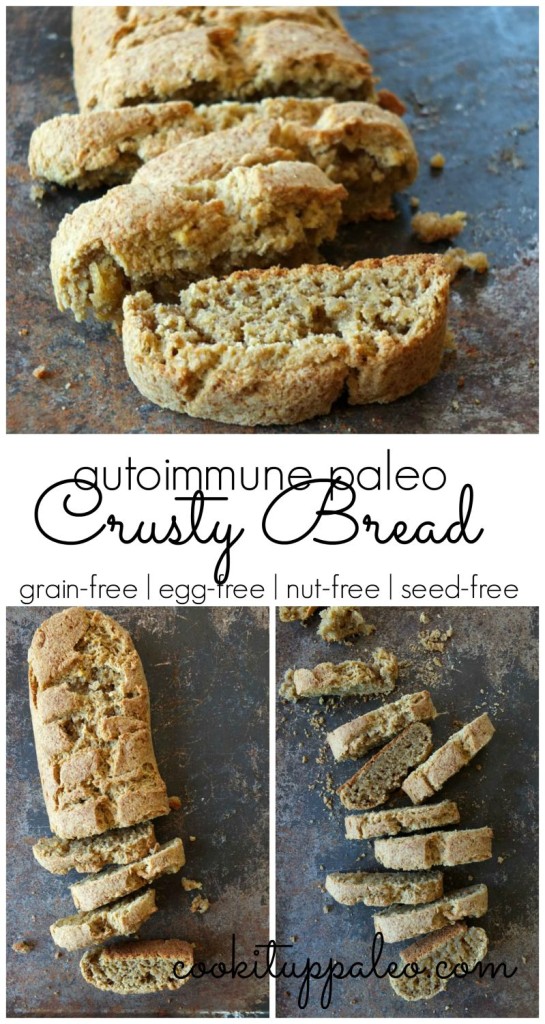 7.) 2-Ingredient Plantain Muffins from The Sweet Plantain – If you can tolerate eggs (I have successfully re-intro'd pastured, soy-free eggs) then you may want to try this recipe.
8.)  Crazy Easy Pan-Fried Plantain Patties from Do You Even Paleo – This is similar to tostones, but more like a little "cake."
9.) AIP Garlic and Coriander (Cilantro) Naan Breads from Comfort Bites Blog – I haven't tried these yet, but I will be doing so soon! Anything that has "bread" in the name is attractive to me!
10.) Tostones from A Clean Plate – I mentioned I LOVE tostones above. I seriously do. I like to wait until they are ripened a little and then the sea salt mixes with the light sweetness and crisp crunch to make the best snack ever! Traditionally, tostones are made with GREEN plantains, so when I use slightly ripened ones they are not *technically* tostones, but whatever!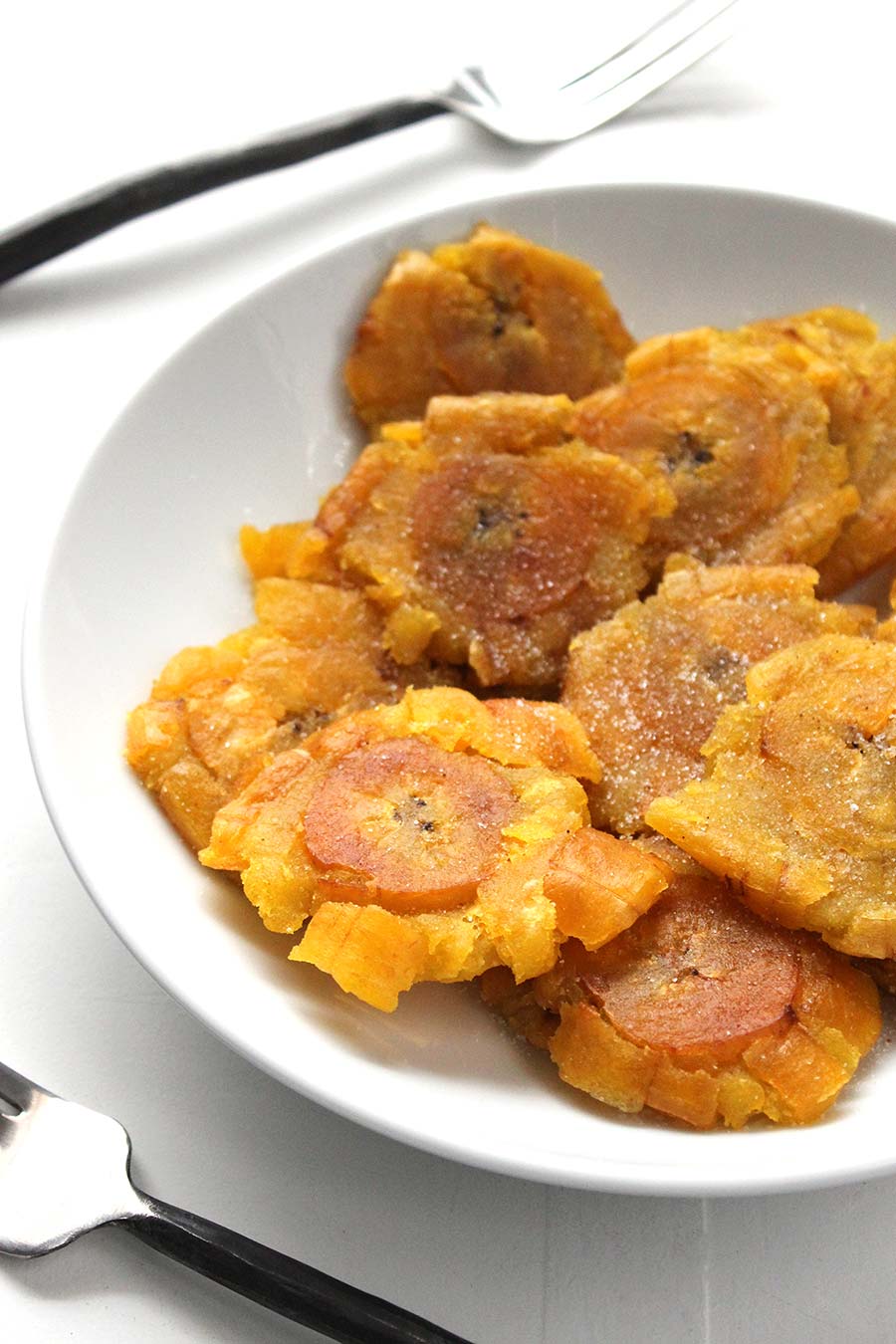 When I make tostones, I like to use my tortilla press and parchment paper to flatten then up really nicely. I simply slice into 1/2 inch discs, lightly brown on both sides and then press it with my tortilla press. I use the parchment paper to keep it from sticking. I use this tortilla press to make "flour" tortillas too – using Ottos Cassava Flour and following the recipe on the bag. They are SO good!!
This is the tortilla press I use:
I hope this inspires you to start experimenting with plantains in your kitchen. There are a ton of recipes on Pinterest that are AIP Compliant using plaintains if you want to search for more.