Last Updated on April 20, 2023
Are you craving a hot cereal? There's nothing quite like a warm, nourishing bowl of AIP porridge to start off the day. If you are on the paleo autoimmune protocol, then you might be missing oatmeal. Well the good news is there are many different options for you to enjoy a hearty bowl of porridge that's AIP compliant.
AIP Porridge
I can't say breakfast is the most important meal of the day, but it sure is important! One of the struggles people tend to have with AIP is "What do I eat for breakfast if I can't have eggs?"
Porridge is a great option, especially when paired with a protein (bacon or AIP sausage) to keep blood sugars stable. Porridge is also easy to make in a large quantity, portion out and freeze. Just take it out of the freezer and place in the fridge the night before, and you should have no problem heating it up in the toaster oven the next morning.
We also have a list of some great paleo Christmas breakfast ideas.
Instant AIP Porridge
If you are looking for something to make that's quick and from a package, like cream of wheat or oatmal, but AIP complaint, check out this instant farina. Farina is typically a hot cereal made from ground wheat, but this AIP farina uses tigernut flour instead.
All it takes to make it is hot water an 2 minutes! You can top it with fresh fruit and sweeten it with natural sweeteners.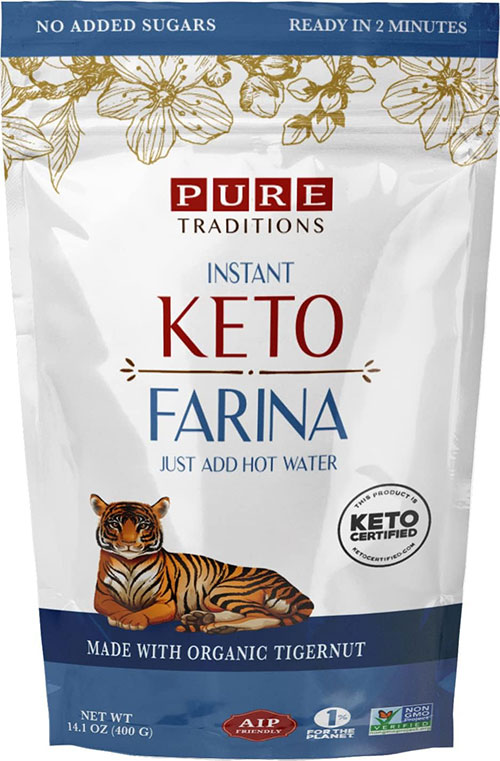 What is Noatmeal?
Noatmeal is a hot cereal, porridge-like breakfast dish that has similar texture to oats. The term n'oatmeal comes from it "not" being oatmeal, but rather oatmeal-like.
AIP Porridge
It can be difficult coming up with AIP breakfast ideas. Luckily there are some great ercipes for AIP porridge and other similar hot cereals. I hope this breakfast porridge round up will help you enjoy a satisfying breakfast!
What's in this AIP Breakfast Porridge?
You will be amazed at all the creative ways you can make porridge for the AIP diet! Think outside the box with ingredients like spaghetti squash, parsnips, tapioca pearls, riced cauliflower,
carrots, shredded coconut, coconut flakes, butternut squash, tiger nuts, acorn squash, and more!
AIP Porridge Recipes
Are you looking for some AIP breakfast ideas that will support your immune system? These delectable recipes are a great way to start off your day with a tasty porridge that everyone in your family will love.
Paleo Apple Pie Porridge
Apple Pie Porridge (Graceful Abandon) – (Paleo, AIP) This yummy breakfast is so delectable that it can double as a dessert! Plus, you can top it with coconut butter whipped cream or your favorite toppings.
Cinnamon Pear "Oatmeal"
Roasted Cinnamon Pear "Oatmeal" (Healing Family Eats) – (GAPS, Paleo, SCD, AIP) Make a satisfying breakfast using spaghetti squash, ground cinnamon, and roasted pears. Plus, you can store any leftovers in an airtight container for up to three days.
Roasted Apple Tapioca Pudding
Tapioca Pudding with Roasted Apples (Sweet Treats) – (AIP, Vegan) Combine tapioca and apples for a delicious breakfast that can also double as a dessert. It's the perfect hot breakfast for a cold autumn morning.
N'orridge With Apples and Cinnamon
Apple Cinnamon N'orridge (Eat Heal Thrive) – (Paleo, AIP) Mix riced cauliflower, coconut milk, grated apples, and other ingredients in a medium saucepan. It's an especially yummy meal first thing in the morning.
Pumpkin Spice Coconut Porridge
Pumpkin Spice Coconut Breakfast Porridge (Wholefully) – Are you looking for a yummy breakfast porridge recipe you can enjoy on an AIP diet? Then you'll adore this hot breakfast cereal that uses coconut flour and pumpkin puree to create a filling dish that will hit the spot on chilly autumn mornings.
Parsnip Porridge
Breakfast Parsnip Porridge (Food by Mars) – This mouthwatering AIP breakfast porridge uses parsnip puree as the base. Then, you'll combine shredded coconut, a pinch of cinnamon, and a couple of other ingredients to create a creamy porridge to serve your family.
Recipes for AIP Porridge
Check out these fabulous AIP breakfast recipes. They're a great option for cold winter mornings when a hot bowl of porridge really hits the spot. Your family will be begging you to make these delicious recipes again and again!
Coconut Butter Drizzle on an Apple Cinnamon Roll Porridge
Apple Cinnamon Roll Porridge with Coconut Butter Drizzle (Foraged Dish) – (AIP, Paleo, Gluten-Free) This delicious recipe combines coconut flour, apples, and coconut butter to create a porridge that will have your family begging you to make it again. It's a heavenly dish to make any time of the year.
Pumpkin "Porridge"
AIP Pumpkin "Porridge" (Healing Family Eats) – Are you struggling to find an AIP breakfast recipe for your family? After you've cooked up this tasty breakfast, be sure to serve it with fresh berries on top.
Porridge With Spiced Carrots
Spiced Carrot Breakfast Porridge (Thriving on Paleo) – (Paleo, Whole30, AIP) Blend carrots and cauliflower in a food processor, blender, or immersion blender to create a tasty breakfast dish. You can also freeze the porridge to make meal prep easy on a busy school morning.
AIP and Paleo Apple Breakfast Porridge
Paleo & AIP Apple Breakfast Porridge (Eat Beautiful) – Use spaghetti squash as a base to create a delicious apple porridge your entire family will devour. It's especially tasty if you top it with some pure maple syrup or honey.
AIP Oatmeal
If you miss the taste of your breakfast porridge, then you need to check out these tasty oatmeal recipes. They're all appropriate for an autoimmune protocol diet, and the best part is that everyone in your family will enjoy the dishes!
Paleo Coconut Blueberry Oatmeal
Coconut Blueberry Paleo Oatmeal (Pure and Simple Nourishment) – There's actually no oatmeal in this tasty breakfast recipe. Instead, you'll find a divine combination of bananas, blueberries, and shredded coconut to create an autoimmune paleo protocol dish you'll love to eat.
Oatmeal with Bananas and Cinnamon
Banana Cinnamon Oatmeal (Healing Family Eats) – Does your family miss their morning bowl of oatmeal? Then you need to check out this tasty breakfast dish that combines spaghetti squash, bananas, and tsp cinnamon to create a dish that supports your overall health.
Ginger and Peach Oatmeal
Peach and Ginger Oatmeal (Healing Family Eats) – (AIP, Paleo, SCD, GAPS) – This satisfying breakfast has a creamy texture that everyone in your family will love. Plus, ginger and peaches make the best comfort food any time of the year.
Apple Cranberry Oatmeal
Apple Cranberry Oatmeal (Healing Family Eats) – This fall, cook up a pot of enticing oatmeal that uses frozen or fresh cranberries. This AIP breakfast recipe is a fabulous way to start your day.
Pear and Chai Spice N'Oatmeal
Chai Spice & Pear N'Oatmeal (Eat, Heal, Thrive) – (AIP, Paleo, SCD) – Are you in the mood for a yummy breakfast dish perfect for a cold winter morning? Then you'll adore this tasty n'oatmeal that combines apple cider, pears, and spices to create an AIP breakfast porridge everyone will adore.
AIP Hot Cereal Recipes
Hot cereal is the ultimate when it comes to comfort food. So whip up one of these AIP breakfast recipes to serve your family on a chilly winter day.
Banana Instant Oatmeal
Warm Banana Instant Oatmeal (Grazed and Enthused) – If you need a fast breakfast that's appropriate for someone with an autoimmune disease, then check this one out. It takes only a few minutes to make this simple porridge recipe.
Cauliflower "Oatmeal"
AIP Cauliflower "Oatmeal" (Food Courage) – (AIP, Paleo, Vegan, Grain-free) – Be sure to drizzle some coconut milk and add some of your favorite toppings to this heavenly hot cereal. The combination of cauliflower and coconut flakes makes a tasty breakfast your family will devour.
Coconut Porridge
Coconut Porridge (Real Plans) – Are you trying to find a breakfast that's fast yet able to be tailored to specific tastes? Then check out this delicious coconut porridge. It only takes 15 minutes to make. The trick is to add your favorite toppings like fresh fruit, cinnamon, or shredded apples.
Instant Pot Breakfast Porridge
Instant Pot Breakfast Porridge (Cotter Crunch) – Have you considered using a butternut squash as the base for your breakfast porridge? That's what this enticing recipe uses!
Apple Cranberry N'Oatmeal
AIP Apple Cranberry N'Oatmeal (Amy Myers, MD) – You'll mix coconut milk, cauliflower, apples, cranberries, and other ingredients in a medium-sized pot until they reach a gentle boil. The end result is a delightful porridge that's perfect for a cold morning.
Porridge Recipes for AIP Diet
If you're looking for AIP breakfast ideas, you won't go wrong with this delightful selection of recipes. The yummy dishes are comfort food that's perfect for an autoimmune protocol diet.
Grain-Free Oatmeal
5 Minute Grain-free Oatmeal (50 Shades of Avocado) – (Paleo, AIP, Gluten-free) This low carb porridge uses instant farina, made from tiger nut flour, which allows it to be ready in minutes. It's a great way to get a delicious breakfast on the table quickly.
Cauliflower Oatmeal
Cauliflower Oatmeal (Glow by Marlowe) – (Vegan, Paleo, AIP, Whole30) Be sure to leave off the optional flaxseed topping to keep it AIP-compliant. This recipe is a great way to sneak extra vegetables into your children's diet while making sure everyone's blood sugars stay stable.
Warm Breakfast Porridge
AIP Warm Breakfast Porridge (Grassroots Functional Medicine) – This recipe calls for you to heat all the ingredients over low heat. Once it's cooked, sprinkle each bowl with coconut flakes.
Nut-Free Pumpkin Porridge
Nut Free Pumpkin Porridge (Brittany Angell) – (AIP, Keto, Dairy-free, Nut-free, Grain-free) You can use either an acorn squash or sugar pumpkin to whip up this delectable breakfast for your family. Drizzle honey or pure maple syrup over the porridge if you love added sugars.
PB&J Cauliflower N'Oatmeal
PB&J Cauliflower N'oatmeal (Hurried Health Nut) – Nothing is better on a crisp autumn morning than a delicious bowl of n'oatmeal. This recipe uses tiger nut butter, fruit preserves, and cauliflower to create an oatmeal reminiscent of peanut butter and jelly sandwiches.
Suggested Toppings for AIP Breakfast Porridge
There are so many ways you can make your AIP breakfast porridge taste even better! Here are some of my favorite toppings for my n'oatmeal.
blueberries
toasted bananas
coconut flakes
raspberries
strawberries
mango
peaches
pears
cinnamon
coconut butter drizzle
a dollop of coconut cream or coconut yogurt
coconut whipped cream
pomegranate seeds
sliced tigernuts
tigernut milk
raspberry sauce
Final Thoughts
When you are craving oatmeal or cream of wheat, these AIP breakfast ideas are a hit. Turning nourishing, whole foods into a hot cereal with a grain-like texture helps fill the oatmeal void in your life while on the AIP diet.