Last Updated on March 30, 2023
If you are on an AIP diet, then you know how difficult it can be to figure out what AIP snacks you can munch on. Being careful to avoid things you are not supposed to have can prove to be difficult with store-bought snacks. The good news is, there are some great AIP snacks you can eat, and some you can even buy pre-packaged!
AIP Snacks
Anyone who's been on the AIP (autoimmune protocol) for any length of time knows that snack foods can be difficult. The term "snack" suggests something quick and easy to satisfy hunger between meals – or even something you can take on the go to keep blood sugars stable and hunger at bay.
Fortunately, there are a few companies with AIP snacks that actually comply with the Autoimmune Protocol. At the end of this post I've linked up some snacks you can purchase ready-made.
For those of us who like to make things to have on hand (and save money), here are 20 easy and delicious recipes for AIP snacks plus some pre-packaged AIP snack ideas.
AIP Snacks to Make at Home
If you prefer to make your own AIP compliant snacks, checkout these go-to snack recipes.
AIP Finger Snacks
These AIP finger snacks are great for on-the-go and are delicious too.
Crunchy AIP Snacks
For those of you who love crunchy snacks, these are great AIP snack options. Personally, when you compare plantain chips vs potato chips, I much prefer plantain chips. You can purchase them pre-made (see below) or make your own.
AIP Snack Dips
Looking for something to dip with those yummy plantain chips? Check out these AIP compliant dips for your snacks.
AIP Sweet Snacks
Want a sweet snack? The best kind of sweet treat is fresh fruit, but you want to avoid eating high sugar fruits in abundance.  These sweet AIP snacks will help.
Delicious AIP Snacks
Store-Bought AIP Snacks
Let's face it, store-bough AIP snacks are just easy when life is busy. When you are on the autoimmune protocol diet, it can be difficult to come up with AIP-friendly snacks.
When looking at ingredients of packaged snacks, look for good oils, like coconut oil or avocado oil (avoid vegetable oils). Of course, it goes without saying, avoid foods that have non-compliant ingredients.
Look for snacks that have healthy ingredients and no added sugar.
Favorite Snacks for AIP
These easy snacks are already made, so just grab and go! Take them on a road trip or when you're running errands so you don't panic when you get hungry at snack time.
AIP Gummies
AIP gummies are especially helpful if you have a child that is on the AIP diet.
Fruit Bars
That's It Bars – These bars contain fruit. That's it! They are good and great for a snack that fits in your purse.
Pork Rinds
Epic Artisanal Oven Baked Pork Rinds – Pork rinds are good and satisfy a desire for a salty snack. Just be sure to get a good brand that contain ingredients like pork skin, salt, pink himalayan sea salt, sea salt.
Coconut Chips
Dang Toasted Coconut Chips – Containing only coconuts and sea salt, but with a crunch that satisfies! If you are wanting something a tad sweet, but also crunchy and easy to take with you on the go, then the Dang coconut chips are great. There are different flavors, I personally love the chocolate ones, but you'll need to wait until you successfully reintro chocolate to enjoy them.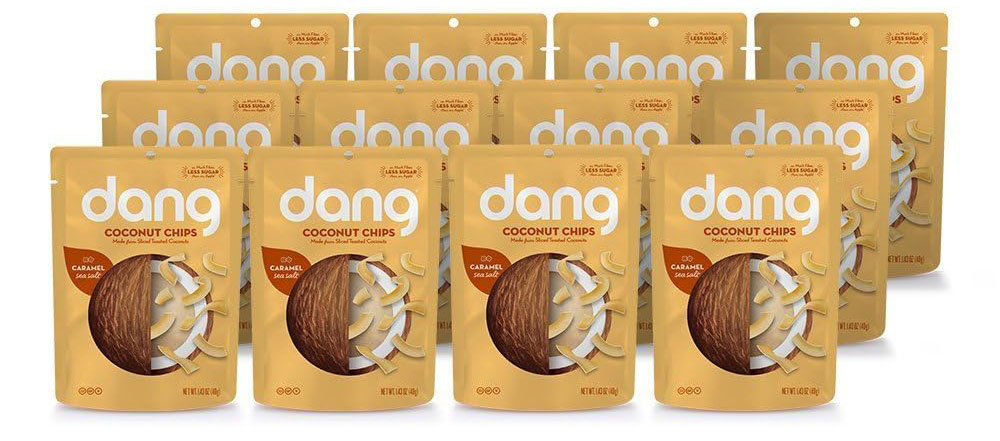 Plantain Chips
Artisan Tropic Plantain Strips – These plantain chips are my absolute favorite out of all the AIP-compliant brands I have tried. I like to buy them in bulk. The sustainable non-hydrogenated palm oil is AIP-compliant. I love smashing all types of avocados into a guacamole to use as a dip with these plantain chips.
Cassava Chips
Artisan Tropic Cassava Chips – These are super close to a regular potato chip and definitely satisfy a salt craving. They are super crispy and crunchy.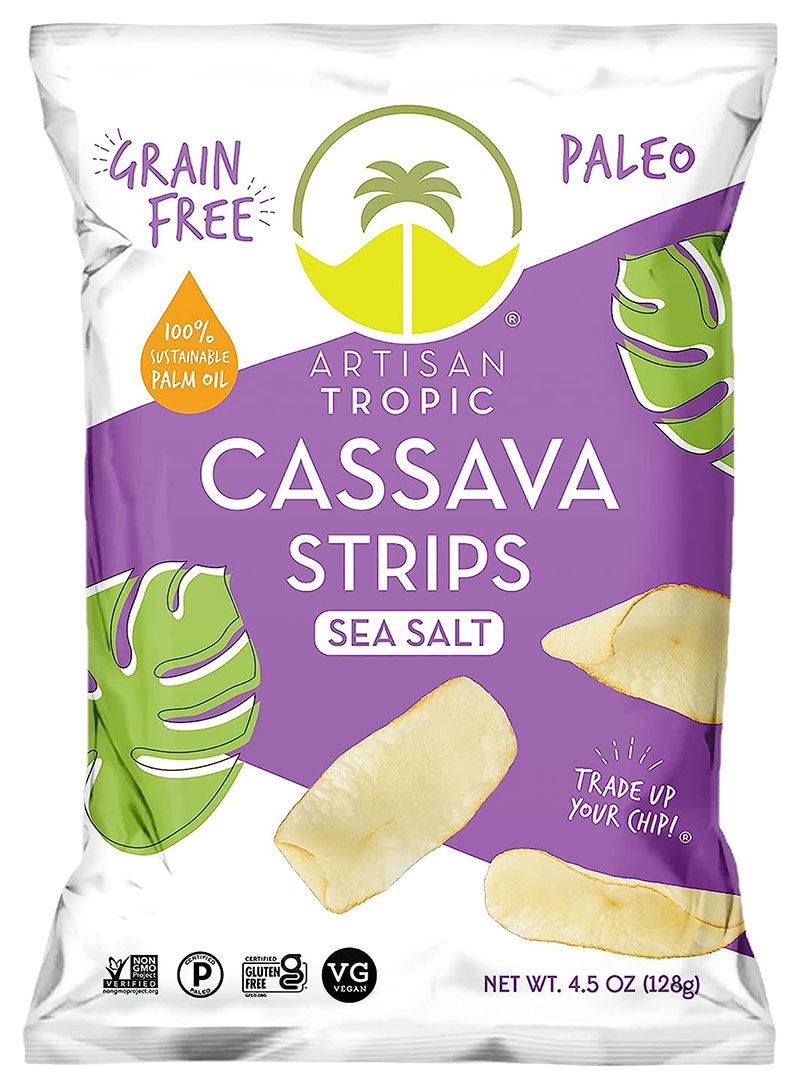 Epic Bars and Snacks
Epic Bars and Snacks – Epic makes some wonderfully tasty jerky bites and salty bites from grass-fed beef, bison, and pork. Just make sure that the one you want to try has compliant ingredients as some contain stuff that is not compliant to the autoimmune protocol diet.
Wild Sardines
Wild Planet Sardines in Extra Virgin Olive Oil – Super simple ingredients and no added citric acid make these a great choice.
Jackson's Sweet Potato Kettle Chips with Sea Salt & Avocado Oil – Sweet potato chips are great when you can find them without nasty oils and other ingredients like "spices." This is my favorite brand.
Apple Chips
Bare Baked Crunchy Organic Apple Chips – Simple ingredients: organic apples, organic cinnamon. If you like crunchy snacks, this is a great one.
Meat and Veggie Bars
Wild Zora Meat & Veggie Bars – These delicious sweet and savory meat and veggie bars are a great snack for on the go. The ingredient list is simple and clean: natural lamb, organic vegetables and fruit (spinach, apricots, dates, garlic, onion, celery), sea salt, oregano, rosemary, and turmeric.
Tigernuts
Organic Sliced TigerNuts – Tiger what? Tiger nuts are not actual nuts; they are tubers, like sweet potatos. They are much smaller in size and are considerered to have a high resistant starch fiber content. They make a great AIP snack and are great on top of AIP coconut yogurt.
To sum it up, the best AIP snacks are:
apple chips
sweet potato chips
plantain crackers
kalamata olives (or any type of olive packed in olive oil without extra ingredients.)
coconut chips
banana chips
kale chips
cassava chips
pork rinds
fruit bars
dried fruit
tiger nuts
carrot sticks
fresh fruit
brussel sprout chips
beef jerky
wild sardines
canned fish (tuna, salmon)
smoked salmon
bone broth (or chicken stock)
protein bars
In Conclusion
The best AIP snacks of course are fruits and vegetables like carrot sticks. But sometimes you just want a bag of "something" to munch on. Look for things that have a natural sweetness if you have a sweet tooth. Healthy fats are also important, so whatch the oils! I hope you discivered something new in our list of snacks. AIP Food is delicious and with a little creativity, you can make yor own tasty snack from food you already have.