Last Updated on August 24, 2023
These AIP Drinks will spice up your holidays a bit! Just because you are on a special diet with restrictions doesn't mean you cannot enjoy tasty beverages. From spiced ciders and AIP mocktails to warm pumpkin spiced "lattes" and other coffee substitutes, you are sure to find some great AIP drink recipes you can make yourself.
AIP Drinks
Living in Florida might sound like a vacation to some of you out there who live in places where frigid temps threaten to "freeze your fuzz off" so to speak. I, however, was born in beautiful upstate NY. And though I moved to the south at the tender age of eight, the mountains, crisp weather changes, beautiful change of seasons, and, of course, snow, left their impressions on me forever.
I struggle through every summer here in sunny Florida. And EVERY time the temps drop, I can be found saying things like "I FEEL ALIVE!!". I root for temperature drops and moan when we see the forecast predict 80 degree weather in December.
Special Holiday Drinks for AIP
That said, maybe this post is more for me than it is you. I like "special" drinks during special times of the year. One of my favorite memories is black Friday shopping with a hot mocha latte in my hand. Those days are gone, believe me (not the black Friday shopping but the days of drive-through coffee drinks).
Being on the autoimmune protocol does not have to make you feel deprived, however. There are many options for hot and cold drinks for special occasions. I hope this round up will inspire you to try something new or enjoy a healthy substitute for a cold-weather favorite.
AIP Drink Recipes
These AIP recipes are great for holiday drinks, but in all honesty, you'll enjoy these AIP drinks anytime of the year, holiday or not! So, if you are looking to jazz up your drink options, these AIP mocktails and coffee substitutes are a great place to start.
AIP Mocktails
Holiday Sangria Punch (AutoimmunePaleo) – A beautiful, holiday themed punch that is perfect for those on the AIP diet. Garnish with orange slices, fresh cranberries and a cinnamon stick for a beautiful presentation.
Berry Fizz Cocktail (Meatified) – Get a fizzy, delightful taste of sangria without the alcohol consumption with this beautiful mocktail.
Paloma Mocktail (Sweet Treats) – Looking to avoid alcohol this holiday season and create some new habits? This is a good drink with a bright and delicious flavor.
Cranberry Ginger Mocktail (FitBit Recipes) – To make AIP use honey or maple syrup instead of turbinado and choose ACV over champagne vinegar.
Strawberry Ginger Switchel (Recipes to Nourish) – This strawberry ginger drink is refreshing and pretty. The added apple cider vinegar will help aid in weight loss as well!
Cherry and Raspberry Cordial (Healing Family Eats) – If you are a fan of Anne of Green Gables you are going to love this fun cherry raspberry cordial recipe with lemon juice and loaded with vitamin c.
Non-Alcoholic Mulled Wine (Unrefined Junkie) – Mulled wine is a classic Christmas drink, now you can have it without the wine. With hot water, apple juice, apple cider vinegar, cranberry juice and spices you won't even know this wasn't the real thing.
No-jito (Wendy's AIP Kitchen) – If you are alcohol free, but miss drinking, you are going to really enjoy this refreshing take on a mojito.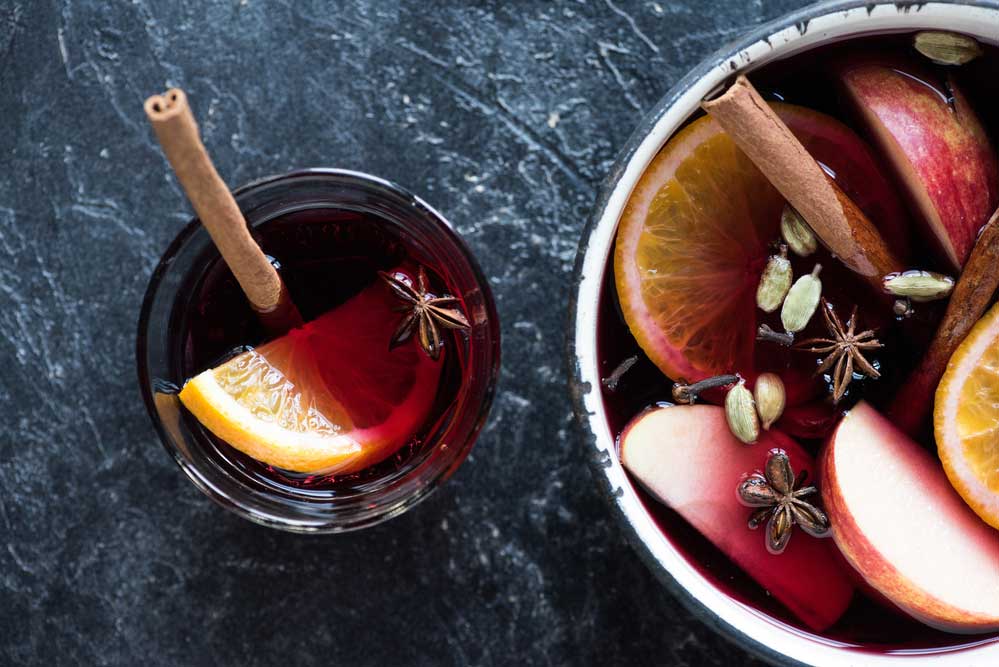 Delicious AIP Drinks
Ginger Ale (Healing Family Eats) – If you are feeling under the weather, or your stomach feels icky, this bubbly homemade ginger ale will cure what ails you!
Paleo Ginger Spritzer Mocktail (Primal Sam) – This festive non-alcoholic drink would be amazing to serve at any holiday party.
Paleo AIP Starbucks Pink Drink Copycat (It's All About AIP) – Hibiscus tea, honey, strawberries, coconut cream, lemon juice and sea salt are all you need to recreate the famous Starbucks drink.
AIP Hot Apple Cider Drinks
Holiday Mulled Cider (Diana's Deserts) – Mulled cider is a holiday favorite, this recipe can be made with or without alcohol.
Hot Apple Cider (It's all about AIP) – No sugar is needed to make a lovely apple cider that is sweetened from the Gala apples themselves.
Instant Pot Apple Cider (Unbound Wellness) – Need to make a large batch of apple cider in a flash? This Instant Pot recipe is great for a crowd and will make your house smell amazing.
Instant Pot Apple & Pear Cider (Food By Mars) – Pears bring a light and lovely flavor to this easy cider that can be made in the Instant Pot for convenience.
AIP Smoothies
Carrot Cake Smoothie (A Clean Plate) – Carrot juice is the secret ingredient to this healthy smoothie that tastes like a carrot cake.
Orange Cream Healing Smoothie (Grazed and Enthused) – If you love creamsicles you are going to adore this creamy, orange goodness with collagen peptides.
Pumpkin Spice Chocolate Smoothie (It's all about AIP) – Roasted carob powder gives a nice chocolatey flavor to this pumpkin spice smoothie.
Gingerbread Smoothie (Healy Eats Real) – A perfect holiday treat that is similar to a Gingerbread frappe.
Creamy Orange Julius (Jules Fuel) – Do you long for the days of the Orange Julius from the mall? This wonderful smoothie fills that craving in a healthy way.
Peppermint Smoothie (Pure and Simple Nourishment) This green smoothie uses real peppermint leave, but  I would sub a few drops of Peppermint Essential Oil for the extract and a more minty taste.
AIP Drinks in Place of Coffee
Do you miss coffee? Meeeee toooo. I love the taste of coffee! But, thankfully there are some wonderful AIP drinks that you can make that can trick your body into thinking you're enjoying your morning brew. Check out these warm (and some cold) AIP drinks that will help you go sans-coffee.
AIP Coffee Substitutes
AIP Copycat Starbucks Pumpkin Cream Cold Brew (It's All about AIP) – Make your very own dairy free, pumpkin cream cold brew without all the junk.
Mushroom Coffee – there are many health benefits of mushroom coffee. Just make sure you find a mix that doesn't contain actual coffee!
Dandelion Root Coffee (Heal Me Delicious) – Coconut milk, dandelion root and chicory make for a warm, creamy alternative to coffee.
Herbal "Coffee" (Surviving a Teacher's Salary) – Make yourself a nice dark cup of herbal coffee with only two ingredients that are tasty and healthy.
Chicory Coffee Recipe – People have been drinking chicory coffee since the Great Depression and before. It makes a great and tasty coffee substitute.
AIP Lattes
London Fog Latte (The Nourishing Gourmet) – This classic tea latte has an amazing and soothing flavor with vanilla and steamed coconut milk.
Apple Pie Tea – This lovely elixir is chock full of superfoods with a wonderful apple flavor. To make AIP compliant, use honey instead of stevia and omit maca powder.
AIP Pumpkin Spice Latte (Lichen Paleo, Loving AIP) – Get a true pumpkin spice latte flavor with real pumpkin, coffee, pumpkin spice, honey and coconut milk.
Gingerbread Latte (Fed and Fulfilled) – Gingerbread lattes are a favorite Christmas drink, that are usually full of sugar and preservatives. This healthy drink will fill that gingerbread craving.
Beetroot Latte (thriving on Paleo) – Looking for a warm drink that isn't coffee? Try this earthy but sweet drink made with beetroot powder.
AIP Chai Tea Lattes
AIP Chai Tea Concentrate (Strictly Delicious – I would use an herbal instead of black tea) This concentrate can be stored in the fridge to make a quick cold drink for on the go.
Herbal Chai (Cook 2 Nourish) – Step-by-step video that shows you exactly how to make this soothing drink with fresh herbs, spices and herbal tea.
Chai Carob Latte (Lichen Paleo, Loving AIP) – Adding carob to this recipe gives this chai latte a nice chocolatey flavor.
Chai Pumpkin Spiced Latte (Unbound Wellness) – The perfect chai latte for those fall months with pumpkin, spices, maple syrup and coconut milk.
AIP Cinnamon Dolce Latte (Heal Me Delicious) – Cinnamon dolce is the perfect flavor for fall and you are going to love this creamy, cinnamon flavored, caffeine free herbal latte.
Premade AIP Chai Mix (Thriving on Paleo) – Make your own premade mix so that you can whip up a healthy chai drink in a flash.
Matcha Green Tea Latte (Eat Beautiful) – Matcha is a type of tea that will give you energy without a crash. This lovely green latte would be good hot or as an iced matcha drink.
AIP Drinks
We've got even more AIP drink recipes for you, so don't leave just yet. These drinks taste great and are super easy to make at home.
AIP Hot "Chocolate" Recipes
Do you love chocolate? You'll enjoy these hot "chocolate" drinks! Made with carob insted of chocolate, you'd never know the difference.
Hot "Chocolate" (A Clean Plate) – Create your very own healthy, sugar and dairy free hot chocolate with this easy recipe.
AIP Hot Chocolate (Unbound Wellness) – Collagen powder is the secret ingredient in this recipe to making a creamy and filling hot chocolate.
Hot Cocoa Mix (Sweet Treats) – This hot cocoa mix is a convenient way to make hot chocolate during the cold winter months. Mix it up ahead of time so you can make a cup whenever you feel like it.
AIP Turmeric Drinks
Turmeric is such a great ingredient to throw into all-the-things because of it's anti-inflammatory properties. You may have heard about "golden milk" and wondered what it tasted like. Well, when you add an AIP compliant sweetener to it, it's actually quite delicious!
Golden Milk Latte (JD Healthy Living) – This traditional Indian drink packs a powerful punch of antioxidants and is anti-inflammatory.
Turmeric Cinnamon Latte (50 Shades of Avocado) – Whip up this tasty treat in less than 5 minutes to wind down and relax your whole body.
Anti-inflammatory Iced Golden Milk Turmeric Latte (Unbound Wellness) – Turmeric is great for autoimmune diseases that cause inflation, and this drink is a perfect way to get in your daily dose.
AIP Golden Milk With Orange and Dates (Autoimmune Wellness) – This soothing brew is perfect for a cold day and full of healing properties.
AIP Flavored Water Drinks
There a lots of health benefits of fruit infused water. Not only does it help water taste great, you get some added nutrients too!
Watermelon Agua Fresca with Mint, Ginger & Lime (Meatified) – The ginger and lime cut the sweetness of the watermelon, creating a tart and refreshing agua fresca.
Fruit Flavored Water (Paleo Flourish) – This flavored fruit water is a great alternative to drinking plain water all the time.
Refreshing Coconut Water "Green" Drink (Delicious Obsessions) – Looking for a hydrating drink for before or after a workout? This cucumber coconut water is refreshing and hydrating to your body.
AIP Kombucha Recipes
You might be wondering "Is kombucha AIP compliant?". The answer is yes, but in moderation due to the high sugar content in some kombuchas.
How to Make Kombucha Tea at Home (the Honest Spoonful) – Great beginner's guide that will take you step-by-step on how to make your own kombucha at home.
Raspberry-cherry Kombucha Mocktail (A Squirrel in the Kitchen) – This is a beautiful and healthy festive drink that looks quite fancy with the sprig of fresh rosemary added to it.
Strawberry Mojito Kombucha (AIPooja) – Mix plain kombucha with berries, mint and lime for a refreshing mojito style drink.
Kombucha Granita (Autoimmune Wellness) – This granita is similar to italian shaved ice, but without the sugar, and the added benefits of kombucha.
Berry Kombucha Smoothie (Zesty Paleo) – Combine fresh fruit with kombucha for a fizzy drink that's great for your gut health.
Store-Bought AIP Coffee Substitutes
Sip Herbals Tea – Boost your energy levels without caffeine by making a french press of tea that tastes like coffee.
Roasted Dandelion Root Tea – Support healthy digestion and protect your liver with roasted dandelion tea as a nice substitute for coffee with your favorite dairy-free milk.
Roasted Chicory Root – Make a caffeine free cappuccino or latte that is gentle on your stomach.
Coffig (Roasted Figs) – A natural energy drink that looks and smells just like coffee, but made with figs!
Final Thoughts
Being on the paleo autoimmune protocol can feel limiting, but there really are so many delicious AIP-compliant alternative drink options for you to make during the elimination phase. I hope this list of yummy AIP drinks has inspired you to get creative with what you make (and drink!).