Last Updated on March 30, 2023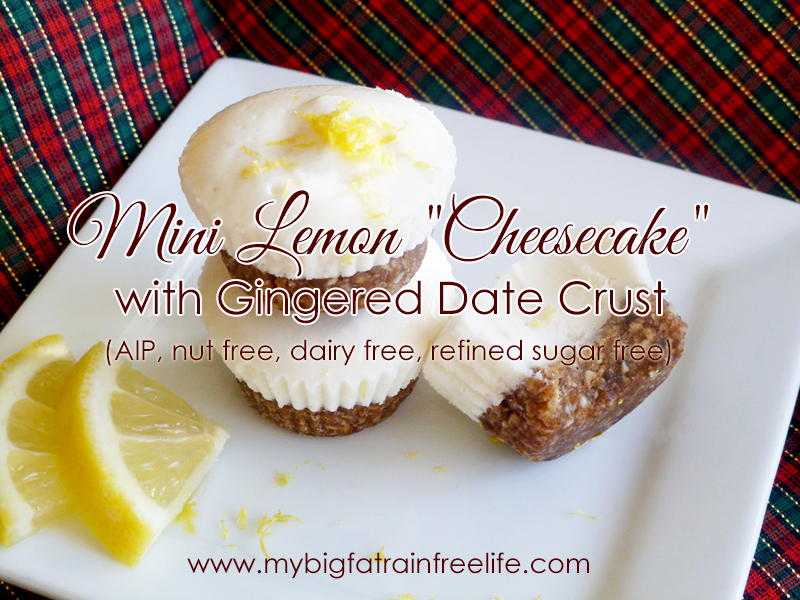 Every once in awhile, things just come together in my universe.  By this, I mean a craving for some long lost food I've become allergic to actually gets satisfied by a recipe developed with substitutions and much modification.  Honestly, there's no formula for this and, quite frankly, it doesn't always work.  For instance, in my book, there's no such thing as an AIP (Autoimmune Paleo a/k/a Autoimmune Protocol) chicken pot pie.  How can you pull off a flaky crust with no gluten, grain, nuts, butter or eggs?  I've given up on ever sinking my pearly whites into an AIP croissant filled with sliced apples and brie "cheese". Nope. Not gonna happen.  I'll do without and eat another piece of bacon, thank you.
But really, it's ok.  I get to whining about it here and there, but TODAY I REJOICE – because this recipe fills my current need for a yummy holiday treat (and a taste for cheesecake – lemon and ginger, no less – two of my favorite things)…"When the dog bites, when the bee stings, when I'm fee-ling saaaaaad…"  I feel a musical moment coming on.
Here's a little background on this recipe:  This week we had some friends over to make Paleo Mom's Paleo Gingerbread Cut-Outs (a fantastic recipe, BTW, but not considered AIP as it contains egg whites and almond flour).  I got to thinking that a lemon icing would be phenomenal on these gingerbread peeps so I threw something together and it just happened.
MAGIC.
My friend (a tremendous allergy-conscious self-trained home chef who should be the one with the food blog) and I put our heads together on how to make an AIP lemon ginger "cheesecake".  In other words, dairy free, nut free, egg free, refined sugar free, etc., etc.
So, without further ado – Merry Christmas everyone!  I hope this recipe satisfies your "hankerins" and brings you joy this holiday season.
Shared on Allergy Free Wednesdays and AIP Round Table…
Print
Mini Lemon "Cheesecake" with Gingered Date Crust (AIP, nut free, dairy free, refined sugar free)
Yield: Makes

18

-

20

mini cheesecakes

1

x
Ingredients
CRUST:

10

Medjool dates, soaked in warm water if hard

1

cup

shredded unsweetened coconut

1 1/2 teaspoons

ground ginger

2 teaspoons

ground cinnamon
pinch of salt

1 tablespoon

coconut oil (melted)
FILLING:

3/4

cup

raw coconut butter (I use Artisana)

1/2

cup

palm shortening (I use Spectrum Vegetable Shortening. The only ingredient is palm oil.)

2 1/2 tablespoons

honey

1 1/2 tablespoons

organic pure lemon extract

1/4 teaspoon

vanilla extract
pinch of salt
lemon zest for garnish(optional)
Instructions
Preheat oven to 250F. Line cookie sheet with parchment paper.
Line a mini muffin pan with mini paper liners.
Drain dates if soaked, then pit and roughly chop.
Spread shredded coconut onto lined cookie sheet and toast in oven until golden brown. Watch carefully as it will burn easily. Allow to cool.
In a mini food processor, pulse all of the crust ingredients until it comes together into a ball. Chill, if desired, while working on the filling.
For filling, measure out coconut butter and place filled measuring cup into a larger cup or bowl filled with hot tap water. This will soften the coconut butter, making it easier to work with. Be sure that no water gets into the coconut butter.
Once coconut butter softens, beat all filling ingredients with either a hand mixer or a stand mixer fitted with a whisk attachment until smooth and shiny. (It's ok if there are some small bumps.)
To assemble, make little balls out of the crust and press into the bottoms of the mini muffin cups.
Pour filling into a zip-top bag, seal top and cut a corner off the end of the bag.
Pipe filling onto the crust.
Chill in fridge or freezer until set.
Store in the fridge. Best served cold.
Garnish with grated lemon zest.
Enjoy!
FOLLOW 30 PLUS DAYS OF MY AIP JOURNEY.