Last Updated on September 7, 2016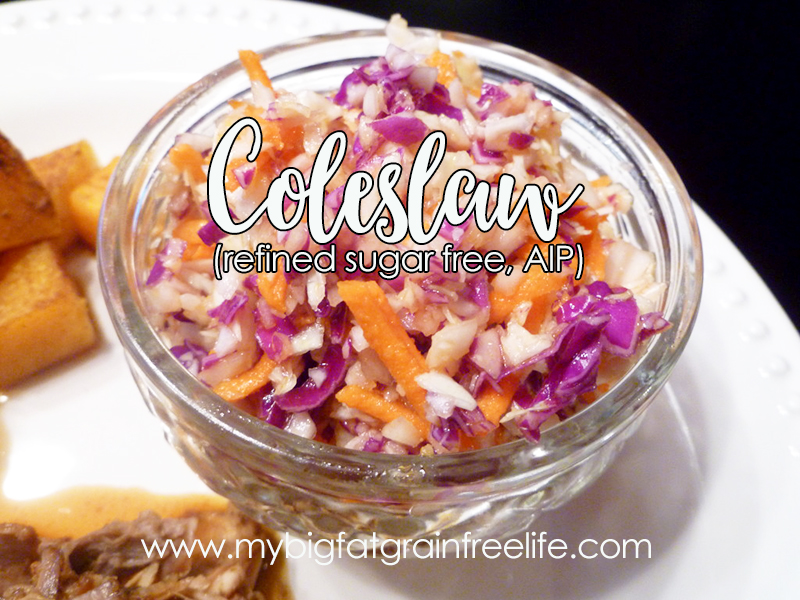 Hello again.  My name is "Jen" and I'm a blogger that hasn't been blogging much.  Why?  Because I'm very busy and because they've taken all of my favorite foods away.  So…I'm sulking.
Not really.  Well, sometimes.
A couple of posts ago, I shared a delicious recipe for Carolina Style BBQ Pork, which has become a family favorite.  In said post, I believe I made promises to share the recipe for the AIP coleslaw that accompanied the dish – which, by the way, has become another favorite around these here parts.
Today, I make good on my promises and share with you this Autoimmune Protocol (AIP) friendly side dish. I PROMISE you will NOT miss the mayo in this coleslaw.  It's sweet and tangy but light and crunchy too.  I hope you all enjoy it as much as we have.
Coleslaw (refined sugar free, AIP)
Ingredients
½ small head of green cabbage
½ small head of red cabbage
2 carrots
2 scallions, finely chopped
2 tablespoons apple cider vinegar (or white vinegar)
3 tablespoons maple syrup or honey
¼ teaspoon garlic powder
¾ teaspoon salt
⅓ cup extra virgin olive oil
Instructions
Finely shred red and green cabbage. Grate or shred carrot. (I use the large shredding disk on my food processor to do the cabbage and carrot.)
In a large bowl, toss together the cabbage, carrots and scallions.
In a medium bowl, add apple cider vinegar, maple syrup, garlic powder and salt. Whisk.
While continuing to whisk, slowly add olive oil in a steady stream.
Pour dressing over cabbage mixture and toss to combine well.
Cover and keep in fridge for at least an hour before serving.
FOLLOW 30 PLUS DAYS OF MY AIP JOURNEY.