Affiliate links may have been used in this post. To read our full disclosure, click here.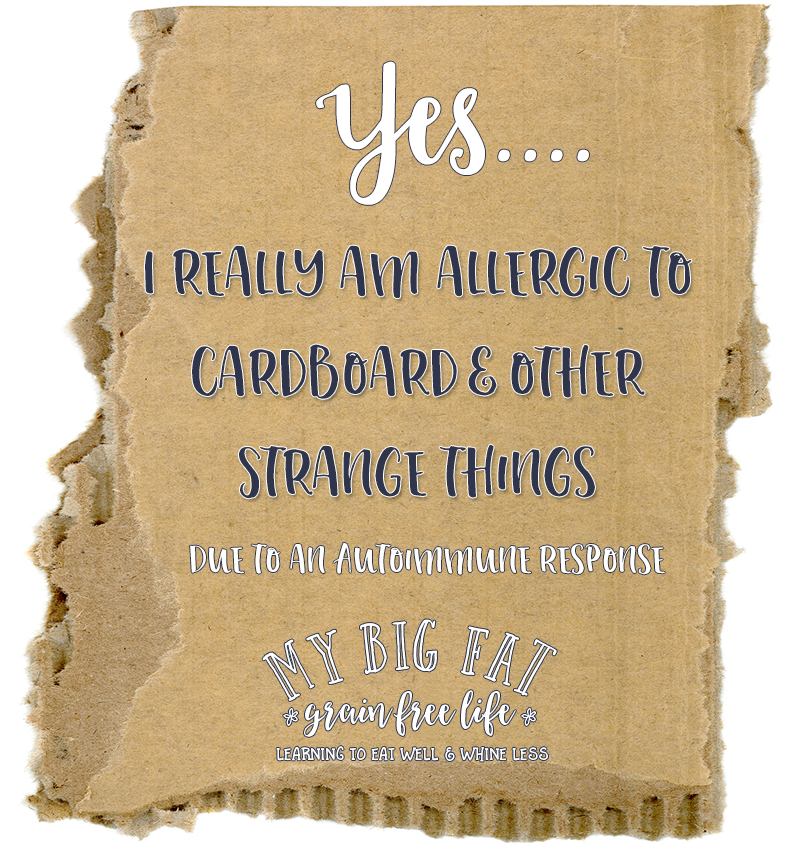 Are you laughing yet? We moved 2.5 years ago for the first time in nearly two decades. After packing up everything I became crazy inflamed all over. I mean ALL OVER. My face was red and puffy and my arms had all sorts of bumps. My throat felt tight and my skin was tingly. It wasn't until we moved and unpacked that it dawned on me maybe the cardboard was causing a reaction. This was definitely a new thing for me!
So – off to Google I went. My suspicions were confirmed and my husband just rolled his eyes…another allergy. Cardboard allergies do exist!
Since coming to terms with my autoimmune disease, I have researched a lot and learned that those of us with compromised immune systems can often develop new and even weird allergies, such as the one I have with cardboard.  A few months ago I read in one of my favorite go-to books The Paleo Approach: Reverse Autoimmune Disease and Heal Your Body that Dr. Sarah Ballantyne also has a cardboard allergy! WHAT?! I squealed with "delight" when I showed my husband. See honey – I am NOT crazy!
Here are some other things I have pretty major reactions to now:
Pencil shavings
Shredding paper (the actual act of shredding it throws me into a crazy allergic reaction)
Pencil eraser residue (we homeschool, so it is EVERYWHERE!)
Chamomile and everything in the Ragweed Family
Mangoes (did you know you can have a poison ivy type of reaction to mangoes? Yea, I didn't either!)
Air fresheners (do not invite me to your house if you have plug-ins)
Makeup – I get rashes around my eyes
It is pretty insane. My friends and I laugh at it; I feel like I am allergic to everything. My face swells up, I get headaches, itch all over, and if it is severe enough my throat starts to feel tight.
Well, next time we move at least I will get out of packing! Are you allergic to anything weird?